Trustworthy Home Glass Repair & Replacement Services
From windows, glass sliding doors, table tops, and glass shower doors, there's a lot of glass placed throughout homes. To avoid serious injuries after a breakage has occurred, a residential glass repair service is important to quickly fix any broken glass your home encounters.
If your home's glass door or a window has broken, you should not try to remove the shattered glass from the window frame or door frame by yourself. The best thing to do is to call glazing professionals. At Secure Glass, our certified, 24 hour emergency glass repair team is ready to help repair and replace any kind of interior or exterior glass for your home.
---
Interior Home Glass Repair Services In Perth, WA
Safety at home when it comes to broken glass isn't expensive, it's priceless.
Glass doors and windows are amongst the most usual building features involved in accidents on residential properties. Around 16,000 non-fatal accidents are reported to hospital Accident and Emergency Departments in England and Wales each year (source). This gives a good idea of the severity of broken glass situations in Australia.
When it comes to glass, it's better to be safe than sorry. Accidents do happen, but the good news is that you can prevent them. To avoid injuries caused by broken glass, you can opt for a safety glass upgrade over your standard glass.
For this reason, safety glass is a type of glass that has grown in popularity. This type of glass used in commercial as well as residential homes is strengthened by heating and cooling, becoming four to five times stronger than regular glass. There are different types of safety glass. For example, tempered glass will stay glued in place instead of shattering when broken.
Get in touch with us today if you need advice about choosing the right type of safety glass for your Perth home.
Table Top Glass
Did you slam your coffee mug just too hard against your table top? No worries! Secure Glass is here to help.
Our team of trained professionals will safely remove all the pieces left in the frame and will make a new custom built glass top for your table.
Glass table tops must be strong, and that is why we recommend choosing safety glass for your table. No matter the size or thickness of your glass table top, we can provide you with a brand new glass table top according to your needs.
A great way to revive your old desk is to put a glass table top on it. It gives life and a new modern look to your old and scratched desk. It can also be put on a dresser or dining table and it makes it super easy to clean. Glass made table tops will protect wood moisture, damage and stains.
We are more than glad to take any inquiries you have, and help you with choosing a new table top or repairing your old one! Call us now for a free glass table top quote.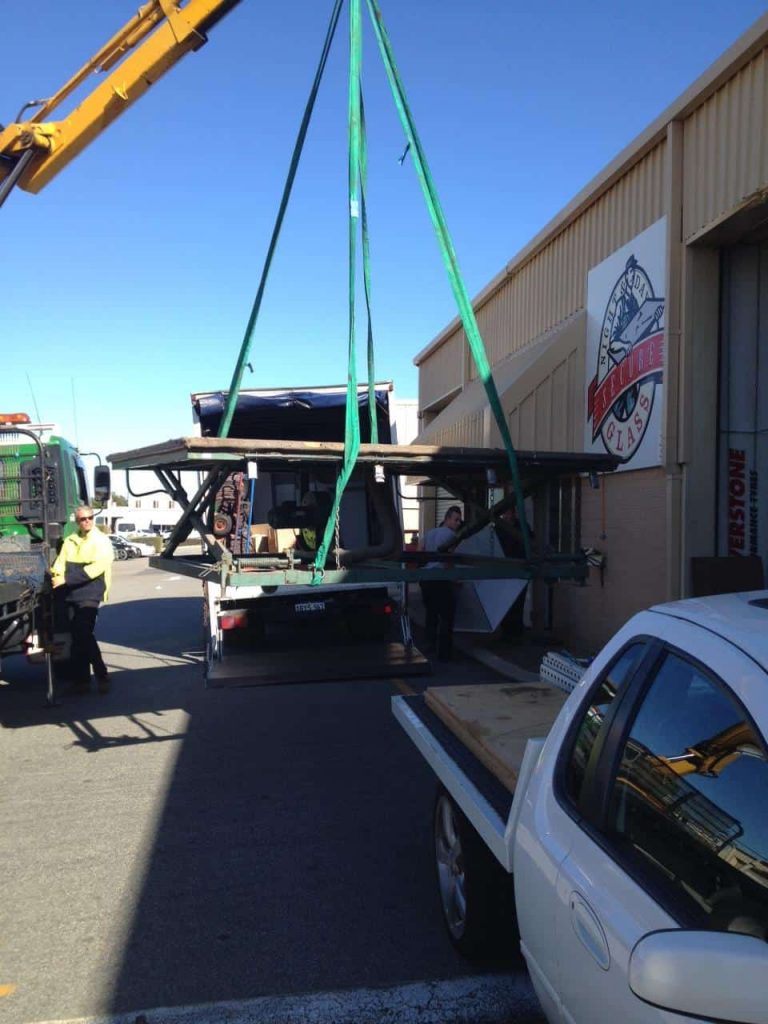 Bathtub & Shower Enclosures
Having a glass shower door does not only prevent the water from splashing all over your bathroom. Glass enclosures create a feeling of a larger room and better lightning.
If you are looking for a new shower glass door or a glass shower wall, Secure Glass can help. If your older shower glass enclosure has broken, we can fix and replace it at an affordable price.
There are many different shower and bathtub enclosures to choose from. Sliding door showers, shower cabins, walk in showers, bathtub glass doors etc. and we will help you pick and install one that fits your bathroom and wishes.
---
Mirrored Wardrobes
Mirrors really lighten up a room, especially if your room allows a lot of natural light. When deciding for a mirrored wardrobe, you should think about the size of mirrors you want on it.
Do you want the whole door covered? Or just a small centrally placed mirror?
If you want to create a feeling of a bigger room, we recommend going for a whole door mirror that gives any room an immediate glamorous impact. Options are limitless, and we can help you make the wisest decision.
A wardrobe with mirrors can be helpful when selecting your clothing and assessing the general look of your clothes.
Residential Single & Double Pane Glass
Single Pane Glass
There are many factors you need to consider when choosing glass for your windows or doors. Efficiency, quality and comfort are the most important ones. If you live in a quiet neighborhood and the temperature isn't changing much throughout the year, then single pane glass is a good decision to go for.
Single pane glass windows are made out of one layer of glass. That means they don't do as good of a job as double paned windows do when it comes to keeping the noise out of your house. However, they are pretty affordable and if you are renewing your whole house you can save thousands of dollars if you stick with single pane glass doors/windows.
Longer term, you might end up regretting single pane glass however. If you live in a loud neighborhood, proper sleep and rest will be harder to come by. Also, your energy bills increase if the temperatures in your area fluctuate much throughout the seasons. The choice is yours.
Double Pane Glass
Double paned glass consists of two layers of glass separated by each other. Between the two layers of glass is either air or gas. Gas used is usually Krypton or Argon. Space between the layers of glass creates super insulation for your home, keeping cold out in the winter and heat out in the summer.
A good double paned window can reduce energy usage by up to 24% in cold environments in the winter and 18% in hot climates in the summer. So it's definitely a smart investment for the future. While you might pay more for a double paned window, it will pay out on a longer term, because you will save a lot on your energy bills.
Home Glass Door Repairs & Replacements In Perth, WA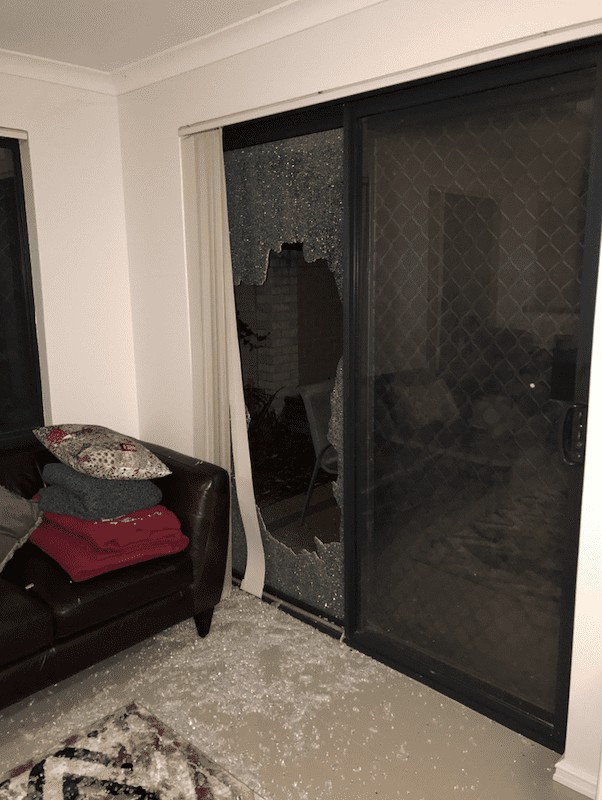 Glass Patio Door Repairs
Secure Glass offers not only glass that's safe, but also glass that looks good. The patio plays a big role in the overall look and feel to a house. It's important to make it pleasing to the eye. Because the patio door is often large and replaces a part of the wall, it's important that they are made from safe and strong glass.
Imagine making coffee in the morning while the sun rays shine through your patio door. A large patio door can bring natural light into your house and gives you the feeling of outdoors while you enjoy the comfort of your house. We at Secure Glass are ready to listen to your wishes and make you the patio door that you've always wanted!
There are many variations of patio doors such as traditional, disappearing and trackless to name a few. With patio doors you won't only increase property value, but also get better energy efficiency, improved security and you gain a beautiful esthetic look.
If you need your old patio doors repaired, have no fear, Secure Glass is here.
It's important that you hire a professional team to repair your doors. It pays out to invest in patio doors that will last for years to come, so you don't have to worry about chipped paint and rusting. Maybe your glass cracked or got foggy? If you have double pane glass on your patio door, it's probably not seal-proof. Give us a call and we can repair your patio doors in no time.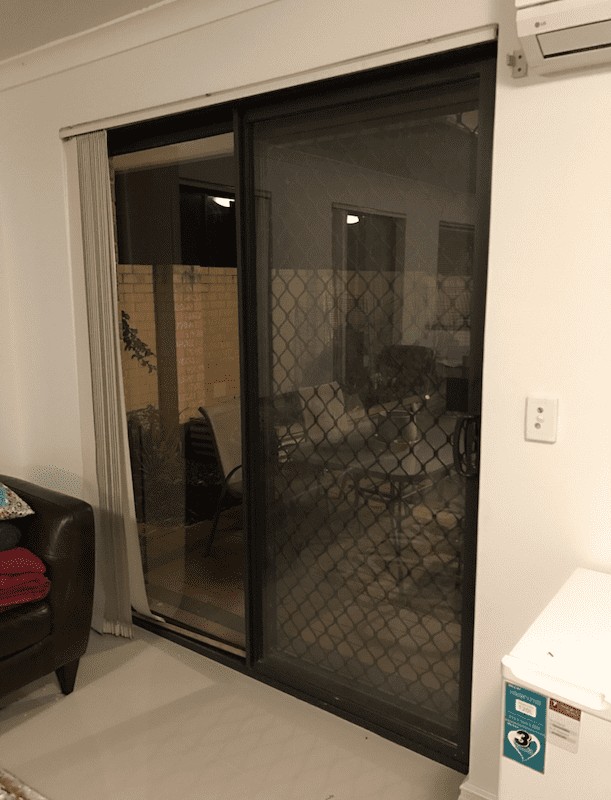 Screen Doors
Screen doors were invented in 1887, mostly to keep the bugs out of the house and to let the fresh air in. Today we see them in most homes across Australia. They don't only keep the bugs and birds out, but did you know that they also increase the value of your house?
Screen doors are usually made out of two materials : aluminium or wood. The wooden doors are more expensive and give that classic look to your porch. If you would rather have the aluminium screen doors, they come in two varieties: roll formed and extruded. They vary in price and have different decorative looks.
Roll Formed aluminium doors are the most inexpensive screen doors. They are made out of aluminium square tubes. These tubes are used to create a frame for the door.
Extruded aluminium frames are usually more expensive to make, but are also stronger and easier to repair later on.
Today we have modern high tech versions of screen doors made out of fiberglass that can keep out 75% of UV light. Some of the mesh used for these doors can filter out pollen and allergens as well.
Is the mesh screen on your screen door turning silver? That's an indication that it needs to be replaced. It's a quick and easy job to do. Our glaziers at Secure Glass can replace it.
---
Glass Shower Doors
If your glass shower doors are broken or you would like to have one, you came to the right place. We can give your bathroom that spa-look that you always wanted!
Shower glass doors come in different shapes and sizes. Framed, frameless, hinged, bypass, round and many more. It all depends on your wishes and taste.
No matter what type of shower doors you choose to go for, shower doors should always be made out of tempered glass. Accidents happen and bathing and showering is the most hazardous activity for all ages. Around two-thirds of emergency room visits have to do with injuries near or in the bathtub or shower. (source)
That is why it's important that your shower doors are safe to use and installed by a professional team. Secure Glass offers professionally trained glaziers that will turn your bathroom into a safe and dry place by installing a custom made shower glass door that fits your bathroom perfectly!
Sliding Glass Door Installations
Sliding doors can be used to divide a large room into two smaller rooms. Another use for sliding doors is to install them as your wardrobe doors. There is a huge range of materials and colors to choose from, and we are here to make custom-made sliding doors for you!
Sliding doors are a great way to save some space in your house. Opening a normal hinged door takes a lot of space. Sliding doors save that space. Here are some benefits of sliding (gliding) doors:
Sliding screens (usually on a patio) keep bugs away
Increased energy efficiency due to better insulation
Saves space
Provides a modern look
Narrower frames allow more natural light in
It's important that sliding doors are done by professionals. At Secure Glass, we can assure you that your sliding doors will be gliding smooth and safe for years on out.
Perth Home Glass Window Services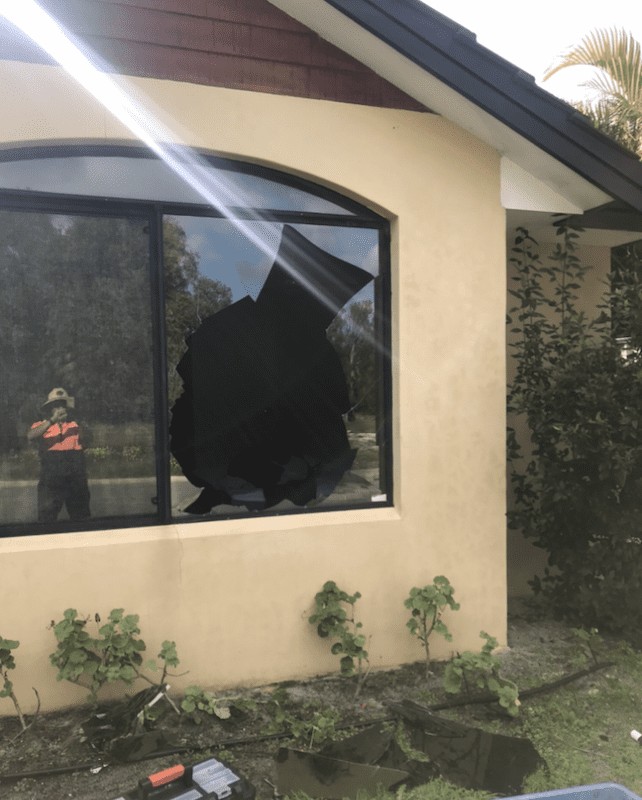 Home Window Repairs
Do your windows slam unexpectedly? Are they getting harder to open? It may be time for a fix.
You should not postpone the repair of your home's old windows. Window frame issues generally get worse the longer you wait. And this just means that potential glass breakage or window repair costs will only grow. For window frame repairs, we highly suggest you call a professional glazier.
In any case, at Secure Glass we are here to help you for any home glass repair need. From sliding glass door tracks to aluminium window frame repairs, Perth wide. Resealing your old windows, fixing cracks, replacing the whole window frame… call us 24/7 at (08) 9314 2044.
Here's a before and after home window glass repair we did in the City of Gosnells.
Home Window Replacements
When your energy costs increase, and you notice condensation appearing on your windows, it's likely time for a glass replacement.
Here are some other signs your windows are giving you when they need to be replaced:
Drafts
Windows don't open and close as they should
Noise from outside
Frames are decaying
Moisture between panes
Visible damage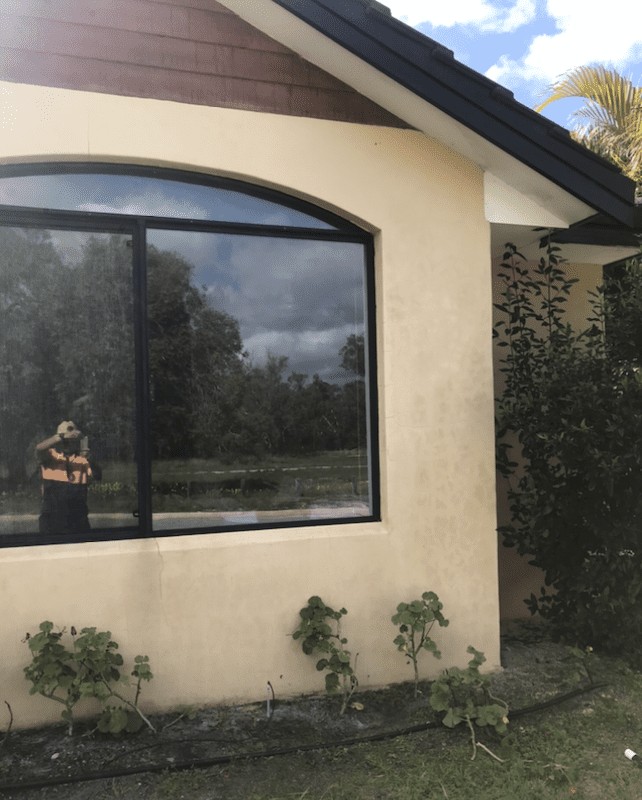 If you notice one or more of these signs on your windows, a window replacement may be needed. Full frame replacement can be the case if your frames are rotted away or the sills are beyond repair.
This usually occurs with older homes, however, an older home does not always equate to needing your windows replaced. We would love to take a look. Our certified glaziers can come out and inspect your home's windows and frames. We offer quick and professional free quotes for our residential glass replacement services.
Home Window Installations
There are two main types of home window installations:
Full frame installations
Pocket installations
Secure Glass can help you make a decision on which installation you need. We can work with you to identify the main factors that play a role for installing windows in your home. Factors such as the condition and age of your home, budget and time restriction.
Home Glass Repair You Can Trust
A proper inspection will help us give you the best advice for your situation. We'll help you decide whether you need a window repair, replacement, or if they are in good shape already.
Choosing the right glass for your windows and doors in your home is vital. It can help you save a lot of money in the long term.
Because the glass you choose can either work for you or against you, it's wise to invest in professional glazing services to prevent future added costs.
Glass work in your home has to be safe. From the installation to the Australian standards glass used, to the professionalism from the glaziers that come to your home to service you. At Secure Glass, safety in all of its facets is not only a part of our name, but it's our company's ultimate priority. Our professionally trained glaziers are qualified and more than experienced to work on your home glass needs.
While glass itself can vary in pricing, a good glass installation is priceless!
Call us today to get a free quote for your residential glass repair needs or installation project.
---